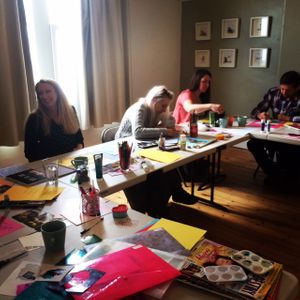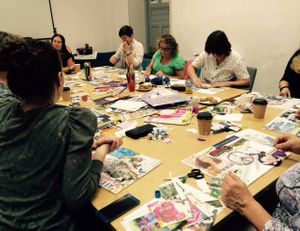 We offer therapeutic art workshops to facilitate the natural healing process the arts can provide guided by our Creative Arts Therapist Sally-Anne Marler. This is perfect for you if you struggle with stress, anxiety, depression, low self-esteem, lack of self-confidence, overwhelm or just generally feeling disconnected or 'stuck' in your life.
The workshops encourage you to experience a state of 'being in the flow' which has been scientifically proven to induce levels of happiness, enouraging the body & minds energy to flow more freely, clearing energy blocks that you might not have been aware of and giving you an overall sense of calm through 'doing' not 'thinking'. You don't need any art experience - these workshops support the process not the outcome and simply offer you a relaxed, creative and supportive space with like-minded people. Your facilitator will guide you through the therapeutic arts process - which allows for reflection, healing, insight and creative expression, that will really add value to your experience.
Booking is essential as these sessions are only offered out to small groups so that each person gets to experience a 1:1 with our Arts Therapist as well as having the support and focus from the group to really add value to the process.
.
Next workshop - Intuitive HeART Workshop - 18th November 1-3pm
Cost: £16 early bird - payable in advance offer expires 1st November - then it's £22.
Max in class: 12
Payment by; cash, chq or BACS or PayPal on booking.
PayPal link: paypal.me/SallyAnneMarler