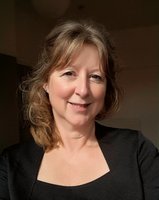 I first discovered holistic therapies in 2006 when a friend introduced me to Reiki. The thought of becoming a therapist had never entered my head at that time, but as soon as I started practicing my Reiki skills with friends, family and animals, I realized I had discovered a new passion for the healing arts; something that has influenced my direction in life ever since.
Eager to learn more, I went on to train in Massage Therapy, EFT, Quantum Touch (which I now teach) and Meditation. In June 2014 I went to Chicago USA to become a Facilitator for the highly acclaimed "Passion Test" which has since introduced a coaching element into my therapeutic work.
I am currently studying with the Meta Health Academy in Solihull where I'm learning to identify the specific emotional triggers of dis-ease symptoms. I am always looking for an interesting new case study! Get in touch if you'd like to volunteer and you could gain new insights into your body messages.
Whilst my Number 1 Passion is being a therapist, other things I love are the countryside, nature, walking and amateur photography. I love all animals, and have been a keen horse-owner/rider for many years. I have also played on stage in various folk-rock bands at parties, pubs and festivals for more than 20 years (I think my early experiences of "stage-fright" are what drew me to learning EFT!). My old fiddle and saddle are now quietly – but temporarily! - gathering dust while I concentrate my energy on learning and growing as a therapist.
If you need any more information, just get in touch for an informal chat or to arrange your free consultation. Thank you
Eileen Strong offers the following treatments at Acorn.
To find out more, click on the pictures below: