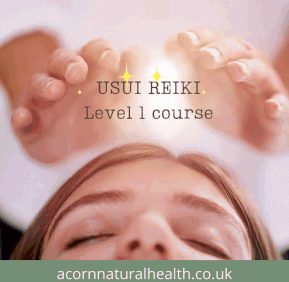 In Usui Level One you will be given the four attunement method, tuition and plenty of time to practice

During the weekend we will discuss what Reiki is, the history of reiki and where it all started as well your new lineage.

We will talk about chakras and your aura and how it helps you in your everyday life.

You will then be taught self-cleansing and self-healing methods, how to heal family and friends as well as the hand positions commonly used when giving a Reiki Treatment.

We will also look at how Reiki can be used in your everyday life with plants, animals and objects such as crystals or bracelets.

On this course you will receive a manual and a certificate as well as a copy of your new lineage.
This class is for two people and will run on
Saturday 24th October 10am-4pm
and Sunday 25th October 10.30am-4pm.
The investment is £135 for each of the participants.
A deposit of £50 is needed to secure your space, this is non-refundable.
Ongoing support is provided after the completion of the Reiki Level One course so you've always got support on your Reiki journey.
Contact hello@acornnaturalhealth.co.uk for more information or to book.