Meditation Classes
With Eileen Strong
Have you ever wondered what it's all about and if meditation can benefit you? Come and give my classes a try and learn how to reduce stress and become calmer. You will experience how the practice of meditation can improve your mental wellbeing and see things through fresh eyes. The class will be and hour and a half and will include breathing techniques, guided meditation and time to practice meditation yourself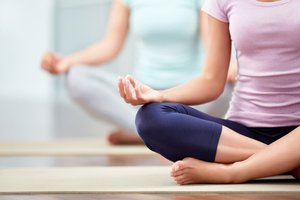 There are many benefits from doing a Meditation Class, some of which include:-
Promotes relaxation and reduces stree

Raises your self-awareness levels

Improves concentration

Encourages a healthy lifestyle

Slows aging

Increases self-acceptance

Benefits cardiovascular and immune health
Here are our upcoming dates:
Introduction to Meditation
September 6th at 7pm.
A relaxed and friendly class to introduce you to the gentle art of meditation.

You'll learn about:

* the history
* how it works
* different styles to try
* how it will benefit you
* creating your own sacred space
* easy ways to get started
* tips on developing your own personal practice

If you've never done meditation before, or simply want to refresh and ease back into a personal practice, then this class is for you.
You'll get to try several different styles of meditation too, in a fun "give it a go" session.

This is a minimum 90 minute class and the cost is £10.
Light refreshments provided.
Chairs are provided for the meditation and feel free to bring cushions if you prefer.

Advance booking recommended.
Attendees will also get priority booking on the 4 week Meditations for Abundance classes running on 6, 13, 20, & 27 September.
4-Part Series - Meditations for An Abundant Life 7pm Friday 6, 13, 20, & 27 September.
This is a 4-class series of 1 hour meditations with a focus on helping you create a more Abundant Life.
Dates:
Friday 6 September 7pm-8pm Abundant Mindset
Friday 13 September " " Abundant Health
Friday 20 September " " Abundant Wealth
Friday 27 September " " Abundant Love
By harnessing the power of your incredible mind, you can create a clear imdate of what your abundant life looks like .. and through meditation techniques, enforce that with the energy of abundance powered by your limitless Heartspace.
Where your attention goes, energy flows.
We can utilise this principle through the vehicle of meditation to help you create more of whatever you want in life.
So, let's get going! To prepare for taking this course, contact the organiser and request a Meditations for Abundance worksheet so you can start getting clarity FROM NOW on what you want. This will make the classes even more powerful for you.
See you there. Do get in touch with us to register your interest and book a place. Pay on the night option available. Contact Eileen direct on 07745 409059, email eileen@eileenstrong.co.uk or Acorn.
Class duration 60 minutes Max in Class 10
Cost: £32 pre-paid to guarantee your place. Payment options available.
Drop in - subject to availability £10 per class.
Please refer to the booking information above to book your place and find out if meditation can help you!