What is your vision for your future? What is your hearts desire?
Discover the potency of manifesting in this powerful vision board workshop.
Maybe you have personal goals or business goals, or both. Whatever you want to see in your life, dream small or big, come along and set your intention and begin the process of manifesting your dream.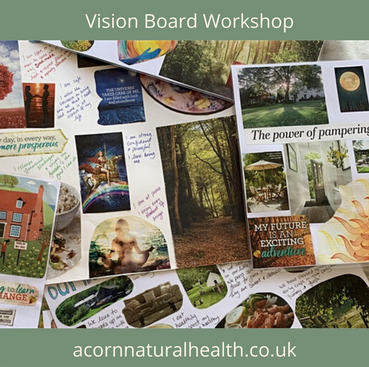 Don't worry about the how, its amazing how things just fall into place once you know what you want and begin to focus on it.
Based on the Law of Attraction, this tried and tested workshop shows you how to manifest in a wonderful, friendly environment. Your workshop leader is Sally Race BSc(Hons) O.T. Dip.C.Hyp and experienced therapist who has run many successful workshops over the past 15 years.
The workshop includes meditation, and the creation of a vision board. No previous experience required, all you need is the following:
* an open mind
* a willingness for your future to be better than it is now
* an idea of what you'd like to have in your life (not essential)
You get to take your vision board home with you, laminated if you wish and instructions on what to do to continue your manifesting journey.
Refreshments are provided.