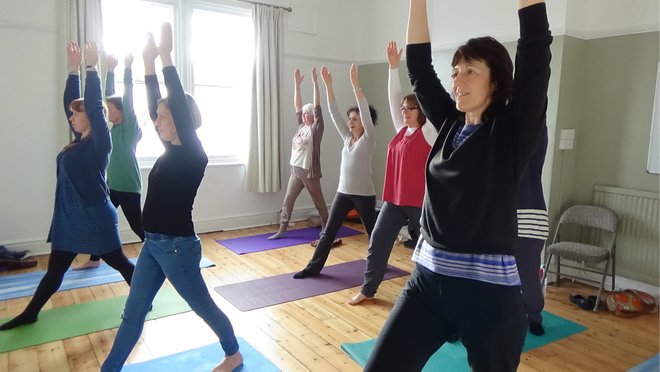 Slow Flow Hatha Yoga
Monday Class 10-11am
This class is suitable for all abilities including beginners. Slow flow yoga helps to strengthen and mobilise the body whilst connecting to the breath leaving you feeling relaxed and re-energised.
Cost £7 per individual class or £30 for a block book of 5. Max in class: 10.
For more information and to book, contact Caroline: 07541213355
email: humblewarriory@gmail.com
facebook: Humble Warrior Yoga
Hatha Yoga
Tuesday Class 7.30pm
This yoga class is suitable for beginners and intermediates, covering a range of movements and practices that you take to your own individual level.
Cost £30 for a 6 week block or £20 for a 4 week block. £7 drop-in session. Max in class: 10. Payment by cash or chq or BACS.
For more information and to book, contact Alena: 07413946205
Thursday Class
6pm – 7.15pm – Beginners Yoga
A gentle class suitable for anyone who would like to reconnect with themselves through breathing exercises (pranayama), gentle stretching (asana) and a guided relaxation or yoga nidra (sleep yoga). With modifications for those who have never practised yoga before, this is a perfect starter class to find out what it's all about.
£6 per drop-in or £20 for a 4 week block
Can be paid cash, card or contactless
To book your place, contact:- t: 07938058558 fb: graceandbalanceyoga e: graceandbalanceyoga@gmail.com