What is Homeopathy?
Homeopathy is a holistic system of medicine which can be used to treat any physical, mental, emotional and spiritual problems, believing that a state of health can only be obtained if the whole body operates in a harmonious balance.
Homeopathy has been around for over 200 years and is considered to be the second most widely used form of medicine in the world, according to The World Health Organisation.
What makes Homeopathy such a popular choice?
What makes Homeopathy stand out from other forms of medicine is the fact that:
•Homeopathy is safe to be used in babies, children, teenagers, adults, pregnant women and elderly alike
•Homeopathy is non-toxic and doesn't put any strain on the body
•Homeopathy doesn't cause any side effects
•Homeopathy can be used alongside ANY other treatments, therapy or medications or as an only method of treatment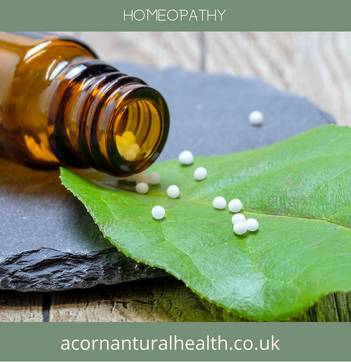 What are Homeopathic medicines like?
Homeopathic medicines are called remedies.
Remedies usually come in a shape of small round granules made on a base of sucrose or lactose which act as carriers for the medicinal liquid; you take them a little bit differently to the medications you might be used to as they don't need to be swallowed- you put them under your tongue and wait for them to dissolve.
What can homeopathy treat?
Homeopathic treatment is not limited to any particular dis-ease as it focuses on the person who suffers from it, rather than their medical diagnosis.
Saying that, people often choose to see a homeopath for the issues relating to:
•Chronic skin conditions (eczema, psoriasis, warts)
•Hormonal imbalances (PMS, acne, fertility problems)
•Bone and muscle problems (arthritis, fibromyalgia)
•Recurrent infections (bladder infections, conjunctivitis, tonsillitis)
•Allergies & hayfever
•Headaches & migraines
•Fatigue and exhaustion/hyperactivity and restlessness
•Grief and depression
•Situational as well as generalised anxiety
•Attention and memory problems
•..and many more
Would you like to find out how homeopathic treatment could benefit you?