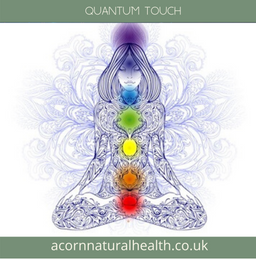 Quantum Touch Natural Healing is unique in both speed and effectiveness, an energy healing technique that helps accelerate the body's natural healing processes. Very helpful for reducing pain and inflammation, balancing organs, gently re-aligning structure and boosting the immune system. It also helps to balance the emotions and clients find it deeply relaxing, usually feeling the effects within minutes.
There is no need to remove any clothing for a Quantum-Touch treatment. A simple postural alignment assessment is carried out before treatment commences. A client may stand, sit or recline on a treatment couch throughout, whichever is most comfortable and appropriate.
The full session includes body alignment session and then energetic balancing and/or addressing areas of pain and discomfort.
60 mins £35
You will receive a free 20/30 minute consultation for your first session with this energy healing treatment prior to your treatment beginning. Please allow for the addional time accordingly.