Reflexology is a natural, non-evasive, therapy that was used by the ancient Egyptians, Indians and Chinese. It's a holistic therapy that treats the mind, body and spirit by working on the reflexes that mirror and link the whole body.
Using my fingers and thumbs to apply pressure to the reflexes that are found on your hands and feet, I aim to help heal and balance your whole body. Reflexology brings the body in to a state of deep of relaxation. During this state of deep relaxation the body's own healing processes are stimulated and the body is brought back into a state of balance. This allows the body to work more efficiently and effectively and can have many benefits.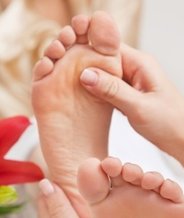 If it is your first time at Acorn for reflexology, please allow an extra 30 minutes for your appointment as you will receieve a free of charge consultation prior to your treatment. This ensures that your treatment is tailored specifically to your needs.
Reflexology - 60 minutes £30
Reflexology with foot and leg massage - 90 minutes £40