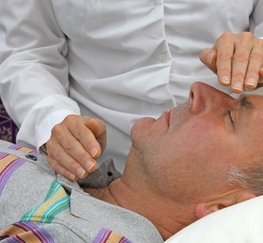 Reiki is a Japanese form of hands-on, spiritual healing which boosts energy levels and restores balance, health and harmony and treats the whole person; physical, emotional, mental and spiritual.
Reiki works on the areas that your body needs most and is a natural way to help your body to heal and restore balance and can be used to enhance any medical and complimentary treatments that you may be currently receiving.
As well as helping your body to heal injuries, diseases and relieving physical ailments Reiki helps to balance and calm the mind and emotions relieving symptoms of stress, tension, depression and anxiety by promoting relaxation and feelings of peace, security and well being. Reiki is also a wonderful way of furthering your spiritual development and discovering yourself through self development.
If this is your first appointment with Anne Marie, book a free of charge consultation directly before your Reiki appointment, this is so Anne Marie can get to know what you want to gain from your treatment. Book your free of charge consultation here: Click to book your free consultation