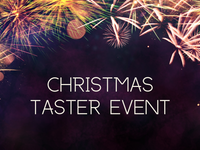 🎄 Join Us for Acorn's Christmas Taster Event - Nourish Your Health & Wellbeing 🎄
Embrace the spirit of the season with Acorn's Christmas Taster Event, a celebration of health, wellness, and community!
Mark your calendars for Saturday, November 18th, from 2:00 pm to 7:00 pm.
A Community Celebration 🤝
At Acorn, we believe in the power of community and supporting local businesses. Join us in fostering a sense of togetherness as we come together to nourish our health and wellbeing.
🌟 What to Expect 🌟
✨ Tasters Galore: Explore a variety of wellness taster sessions, each designed to rejuvenate and revitalize. Try your hand at Mind-Body Connect, Reflexology, Sports Massage, Counselling, Meridian Therapy, and Nutritional Therapy.
☕ Chat & Cuppa: Relax and connect over a cup of tea or coffee. Share your wellness journey, meet like-minded individuals, and discover the benefits of our taster sessions.
✨ Expert Guidance: Our experienced practitioners will be on hand to guide you through each taster, offering insights and answering your questions.
Nourish Your Body and Soul 🌿
This holiday season, take some time for yourself. Whether you're looking to relax, unwind, or explore new wellness opportunities, our Christmas Taster Event is the perfect opportunity to do so.
Save the Date 🗓️
📅 Date: Saturday, November 18th⏰ Time: 2:00 pm - 7:00 pm
Don't miss this chance to celebrate the season, connect with your community, and prioritize your health and wellbeing.
Join us for Acorn's Christmas Taster Event - where wellness meets festive cheer. We can't wait to share this special day with you! 🎅🌟
Pre-book your tasters to avoid disappointment: