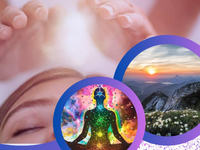 Are you looking to experience the profound benefits of energy healing and connect with like-minded individuals in a supportive environment? Look no further than the Heanor Healing Circle! Hosted by Eileen and Anne-Marie, this circle offers a nurturing space for Reiki and Quantum-Touch enthusiasts to share their healing journey.
Reiki Share Group & Quantum-Touch Healing
In this healing circle, we focus on two powerful modalities: Reiki and Quantum-Touch. Reiki is a gentle, hands-on healing technique that promotes relaxation, stress reduction, and overall well-being. Quantum-Touch utilizes life force energy to amplify the body's natural healing abilities, supporting physical, emotional, and spiritual healing.
Schedule and Details
The Heanor Healing Circle sessions are scheduled for Wednesday evenings. The upcoming dates to kickstart our circle are as follows:
📅 June 28
📅 July 26
📅 August 30
📅 September 27
The sessions will run from 7:00 pm to 8:30 pm, providing ample time for healing, sharing, and connecting.
Registration and Contribution
To ensure a harmonious gathering, we kindly request pre-booking/pre-registration for each session. You can secure your spot by sending a text message to 07522836679. Please include your name and the date(s) you wish to attend.
The exchange for attending the Heanor Healing Circle is a modest £10 in cash at the door. Your contribution helps cover the expenses associated with hosting the circle and supports the growth of this healing community.
Join By Zoom Option
We understand that attending in person may not always be possible. Therefore, for the first 30 minutes of each session, we offer a free "Join By Zoom" option. This allows you to connect with the group virtually, experience the energy, and get a taste of what the Heanor Healing Circle is all about. The Zoom session will be available from 7:00 pm to 7:30 pm.
Whether you're new to Reiki and Quantum-Touch or have been practicing for a while, the Heanor Healing Circle welcomes everyone with open arms. Join us as we create a space for healing, growth, and connection. Together, we can embark on a transformative journey toward well-being and harmony.
For any inquiries or further information, please reach out to us at 07522836679.